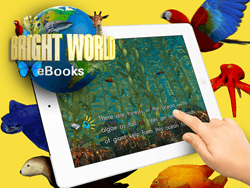 San Diego, CA (PRWEB)
July 07, 2015
There is no denying it. In our modern world, technology surrounds us. Wherever we go, there it is. The fact is, today's generation of children are being raised by technology and they are learning to crave interactive experiences. With their naturally inquisitive minds, more than ever it is essential to captivate children's attention through the use of technology while, at the same time, presenting nonfiction text that will expand their knowledge of the world around them and their vocabularies.
3D Learning Group released today an interactive reading experience for children — Bright World eBooks. Bright World eBooks presents nonfiction information in a conversational tone. The stories are, in fact, story-like rather than the lists of facts that are so common among informational text options for children ages 5 – 8. This approach will provide a gateway to traditional nonfiction reading (textbooks) as children progress in school. In addition to finding a way to present nonfiction text in an engaging way, Bright World eBooks has evolved the traditional children's picture book. Using 3D animation, the eBooks allow children to become immersed in the story's environment. In "Ocean Forests", the first title within the Bright World eBooks series, the 3D feature allows children to feel as if they are scuba diving in the ocean's kelp forests.
With recent changes in reading standards for children, Bright World eBooks is coming at the perfect time. "Ocean Forests", now available in the iTunes App store, is a reading experience children will rave about to their friends. All in all, Bright World eBooks is an easy "yes" for parents with its affordable $ 2.99 price point and its mission to educate and entertain.
To download Ocean Forests, the first title of Bright World eBooks, from the Apple App store, click here: https://goo.gl/yoWDTZ.
3D Learning Group is a new company formed for the sole purpose of building fun and effective learning experiences for children. Their first endeavor, Bright World eBooks, is focused on providing a unique nonfiction reading series for tablets that offers a new standard in visual quality, interactivity and vocabulary building.
###