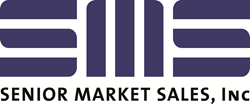 Omaha, Nebraska (PRWEB)
June 22, 2015
Rather than ignore Medicare and Social Security as government entitlements that don't need strategy and planning, financial advisors should make them the foundation of retirement planning if they are to avoid putting clients at risk of running out of money in retirement, a new Senior Market Sales, Inc. white paper finds. But the percentage of financial advisors who are willing and qualified to offer this type of advice remains low, presenting both a risk and opportunity for financial advisors.
SMS examined a broad spectrum of data, from consumer surveys and demographics to financial planning industry reports and economic data, for the white paper, "The New Foundation of Retirement Planning: Social Security and Medicare." Collectively, the data uncovered an unmet consumer need that could cause a dramatic shift in the financial planning landscape at an especially challenging time, as the industry faces dwindling numbers of veteran advisors and the rising threat of robo-advisors.
"Independently, each survey and report that we looked at provides valuable insight, but this is the first white paper to piece those trends together to show how they'll impact the practice of retirement planning," said Chris McDonald, associate director of institutional sales at SMS. "Clearly, all these forces together are elevating the roles of government-administered social insurance programs in the lives of those facing retirement, and that means financial advisors will need to adapt."
The white paper shows that many people rely on their Social Security check to pay for their health care but that retirement health care costs are on a path to exceed Social Security benefits. Soon-to-retire workers who in good times focused on investing to supplement Social Security, now see Social Security with a new importance as they face rising health care costs, longer life expectancies and longer careers. They also will approach their Medicare election and health care spending with greater scrutiny. Baby boomers are more health-aware than previous generations and more dependent on social insurance due to losses of investments and sometimes entire pensions after the Great Recession.
As a result, financial advisors will be increasingly pressured for strategies that boost Social Security income, control health care expenses, and creatively arrange and draw on investments and other assets to extend retirement income. At the same time this influx of baby boomers demands these new services, the financial planning industry is losing veteran advisors faster than they can be replenished. Financial advisors already report feeling stretched too thin, and they must find creative ways to survive in a less-wealthy, more-automated world.
"These realities can no longer be ignored," McDonald said. "Smart Medicare and Social Security choices are the first steps to building a successful retirement plan."
The white paper identifies possible solutions to help advisors meet the growing demand for these new services.
For example, SMS developed Total Social Security to help independent insurance and financial professionals identify their clients' best Social Security claiming strategies and guide advisors on how to incorporate Social Security into overall retirement plans. Qualifying professionals receive training, live support from Social Security experts, FINRA-reviewed marketing materials, and software which calculates the best claiming strategies for clients.
SMS also partners with Medicare BackOffice®, a team of insurance agents licensed, contracted and certified in all 50 states to provide Medicare advice and products. Financial and insurance professionals refer clients to Medicare BackOffice so they can continue to focus on their area of expertise while remaining their clients' main advisor.
About Senior Market Sales, Inc.

Senior Market Sales is a national insurance marketing organization, representing top Medicare Supplement, Medicare Advantage, annuity, life, long-term care, and travel insurance carriers in all 50 states. More than 30,000 independent insurance agents rely on Senior Market Sales for proprietary technology, competitive insurance products, expert training and service to help them leverage their time, make more money and put their business in a position of distinction. Founded in 1982, Senior Market Sales is headquartered in Omaha, Nebraska. Visit http://www.SeniorMarketSales.com for more information.