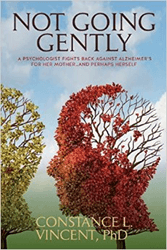 Washington, DC (PRWEB) June 18, 2015
"Vincent is an adept writer, both when it comes to engrossing storytelling and in delivering medical facts with significant weight… A quick, emotional, and educational memoir about Alzheimer's." – Kirkus Featured Review
"A highly candid and intimate memoir that chronicles the many challenges facing those touched by Alzheimer's disease. It is impossible not to be moved by Dr. Vincent's heartfelt account…"

– Dr. Kirk Erikson, associate professor at the University of Pittsburgh and author of a key brain study
"For baby boomers – or anyone else – concerned about memory loss, the big fear is always "What if I'm getting Alzheimer's?" And if you have dementia in your family, you have even more reason to worry," says Dr. Vincent, a retired psychologist based in Northern California. "But here's the Catch 22. The disease has a 'head start' of twenty or more years ravaging your brain before you recognize the damage, and then it's too late for help. You have to take preventive measures to stop it now, before symptoms appear."
While much of what information exists about Alzheimer's tends to focus on only one aspect of the disease from either a scientific or personal perspective, Not Going Gently melds the two in an all-inclusive portrait of the disease. The book respectfully and honestly addresses this devastating illness that affects millions of people and their loved ones, while also offering hope through groundbreaking prevention plans.
Not Going Gently is an easy-to-read, warmly emotional memoir on love, aging and loss that contrasts Dr. Vincent's mother Madeline's touching and dramatic story with her own normal age-related memory changes and research into the disease. The book includes:


    Risks, warning signs, diagnosis, and stages of Alzheimer's disease
    How the brain creates and stores – or loses – different kinds of memories
    The latest research into the causes of Alzheimer's
    Better treatment ideas for protection, offering hope for the future
    Advice for family planning
    Groundbreaking prevention plans that include nutrition, essential lifestyle changes, and building a cognitive reserve
Not Going Gently was selected to be featured by Kirkus Reviews in their June 15th 2015 issue. Kirkus is considered by many to be the "world's toughest book critic… uniquely associated with excellence," and only 10% of Indie reviews are chosen for this honor.
Not Going Gently is available at bookstores everywhere and on Amazon.com. Find out more about Dr. Vincent and her research at http://www.DrCLVincent.com.
About The Author:
Constance is a psychologist and former university professor who studies the individual's innate capacity to realize his or her full potential – mental, physical, emotional, and spiritual. Inspired by the quotation attributed to Socrates, "An unexamined life may not be worth living," she is also aware of the warning from Dr. Schweitzer and others that "an unlived life" may not be worth examining. Seeking to both live fully and examine deeply, Constance's widely varied interests, circumstances, and experiences reflect her philosophy. She lives in Northern California.
Related Baby Advice Press Releases