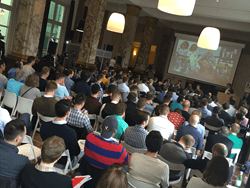 New York, NY (PRWEB) May 28, 2015
With over 2000 gay couples and singles worldwide, including 700 in Europe, the nonprofit organization Men Having Babies (MHB) is dedicated to easing the path to surrogacy parenting for its members. For several years MHB has been providing unbiased guidance and financial assistance to prospective parents in the USA, the UK and Israel. On May 2-3, 2015, the organization held its first conference in continental Europe, in collaboration with the LGBT parenting organizations "Meer dan Gewenst" from the Netherlands and "Gay Surrogacy UK".
The "Brussels Conference on Parenting Options for European Gay Men" attracted more than 200 prospective gay dads from 10 countries, well above original estimates. "We were overwhelmed and moved by the large attendance and intense desire for parenting expressed by men who came from not just neighboring France and the Netherlands, but also from as far as Ireland, Portugal and Bulgaria," said Ron Poole-Dayan, MHB's executive director.
The conference brought together community activists, medical and legal experts, parents and surrogate mothers. Several workshops and panels offered peer advice on surrogacy and adoption of children from the USA, finding and picking professionals to help in the process, and information about MHB's Gay Parenting Assistance Program (GPAP). "Even with the easing of legal obstacles to adoption by gay men, the reality is that across continental Europe there are very few domestic adoption opportunities," said Anthony Brown, MHB's board chairman. "Meanwhile, domestic surrogacy is either illegal or unavailable, and societal attitudes are much more hostile to surrogacy compared with those in the USA and England."
"We were aware of how sensitive the subject is, given the current political debates across Belgium, France, and the Netherlands regarding surrogacy and assisted reproduction legislation," said Poole-Dayan. "However, we were surprised by the misinformation and hyperbole in some of the initial media coverage. A major Belgian newspaper actually claimed that we are 'selling babies,' and pointed to survey results of average expenses reported by parents, calling it a 'price list'."
Much of the misinformation revolved around the conference's resource fair, where more than twenty clinics, agencies and community organizations that help gay men through the process of either adoption or surrogacy in the USA and Canada were present. "The fact that we have to pay for professional services on our path to parenthood does not mean that we are 'buying babies', just as using a dating service does not imply that one 'bought' their husband or wife," said Poole-Dayan in an interview to Belgian public radio. "We are not legislators, so the most we can do is encourage transparency, and empower prospective parents, surrogates and practitioners to make more informed decisions."
While the media coverage before the conference included some surrogacy critics, by Monday the tone changed and the prominent newspaper 'De Standaard' led with the headline "I would give an arm for a child" ("Ik zou mijn arm geven voor een kind"), highlighting the strong yearning of European gay men for parenting.
Following the conference numerous prospective parents expressed their appreciation and gratitude: "This conference opened a complete new world for us," wrote one couple, "it truly helped us to cement our conviction about parenting and to start planning the next steps," wrote another. "It was stunning and somehow uplifting to see over 200 gay men intensely looking for parenting options they did not have in Europe but the US offered to them," wrote a social science researcher. A Belgian couple commented on the media coverage: "There was an item in the news today and a rather positive one. Lets hope this will spark a turning point and will raise the awareness in a good way."
Conference organizers in the USA and Europe hope to continue to build on the progress achieved at the conference. To that end, a collaboration meeting took place with representatives and activists from the Netherlands, the UK, Belgium, France, Portugal, Ireland, and Switzerland. They resolved to work on the expansion of the Gay Parenting Assistance Program (GPAP) to more European countries, the formulation of ethical standards for surrogacy, and developing resources and tools to improve the visibility, awareness and acceptance of gay headed families formed through surrogacy. "It was amazing to see so many guys from Europe dreaming of a family, and it's great that we can help them in this process," said Marc Faber from Meer dan Gewenst. "However, based on what heard form some journalists and politicians, there is a lot work to do in Europe."
Currently only residents of the USA, Canada, the UK, and Israel have full access to GPAP's benefits that include over a million dollars worth of cash grants, discounts and free services for surrogacy and adoption in the USA. Arrangements will now be made for these benefits to also be available to residents of additional countries. GPAP is made possible thanks to support from MHB's loyal partners, including the conference's Platinum Sponsor, Worldwide Surrogacy Specialists. "We were excited to meet with so many wonderful future parents and professionals from all over the world. It is a rewarding experience to be able to come together to provide a wealth of information and financial assistance to all those wishing to build their families," said Jennifer McArthur who represented Worldwide Surrogacy at the conference.
Upcoming Men Having Babies conferences include Chicago (Sept. 20, 2015), NYC (November 15, 2015), and San Francisco (Jan. 23, 2016).