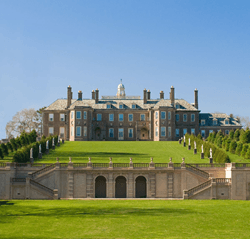 Boston, MA (PRWEB) May 20, 2015
History buffs and explorers can experience places where history was made by some daring individuals during The Trustees of Reservations' (The Trustees) annual Home Sweet Home Open House event. In honor of National Preservation Month and the organization's diverse collection of historic properties and landmarks, this day-long open house being held on Sunday, May 31st from 10AM – 5PM includes free admission to 11 of The Trustees' most exceptional and off-the-beaten-path cultural sites across the state. This year's theme celebrates our "Massachusetts Mavericks" – the independent minded, the free-sprits, the non-conformists, and the eccentrics whose legacies and stories infuse Trustees' properties and have helped to collectively shape our country's history.
"Our vision for Home Sweet Home is to provide Massachusetts' residents and visitors with the opportunity to experience some of the Commonwealth's most treasured and historically important sites in our care," says Barbara Erickson, Trustees' President and CEO. "We are committed to helping address our society's decreasing attachment to its history, nature, and culture. Our hope is that by opening the doors to some of our most unique historic properties across the state at no cost to visitors, we can share their important place in our history in a way that is fun, fresh, and family-friendly with more people."
The Trustees' collection of historic properties range from the Colonial era and the Downton Abbey-esque Gilded Age, to the Modernist retro era of Mad Men. Filled with unique collections of art, artifacts, and furnishings, as well as exquisitely designed gardens and stunning natural landscapes, several sites are also National Historic Landmarks designed by renowned architects. From the Berkshires to Greater Boston, there's a Home Sweet Home open to you. Tours, events, walks, talks, games, refreshments and more will be offered. Visit http://www.thetrustees.org/homesweethome for all the details.
NORTH SHORE AND GREATER BOSTON

The Great House at Castle Hill, Ipswich, MA

Experience the grandeur of Castle Hill, a National Historic Landmark, and its English-inspired "Great House." During the Open House, visitors may tour the Crane family's elegant 1928 mansion as well as its surrounding complex of stunning natural and designed landscapes. Learn about the innovation and technology of international plumbing magnate and maverick Richard T. Crane, Jr. and how he and his family lived at this magnificent seaside estate through free tours, talks, and games scheduled throughout the day. Afterwards, spend the afternoon soaking in the breathtaking ocean views as you lunch on the terrace at the Castle Hill Café. http://www.thetrustees.org/castlehill
Old House at Appleton Farms, Ipswich, MA

Discover the mavericks at America's oldest working farm, both past and present. Learn about nine generations of Appleton family history – from a brigadier general in the War of 1812 to a 19th century entrepreneur to a 20th century Wall Street lawyer as you explore the surviving family home, the "Old House," which includes a family museum room and a library featuring special portraits and archival photographs. Consider the courage and perseverance demanded by farm life over the centuries as you enjoy refreshments on the Old House porch overlooking the bucolic pastures. Walk the farm's many trails, visit the cows, and stop by the dairy store featuring cheese, yogurt, and milk made on site from the farm's own Jersey cows. http://www.thetrustees.org/appletonfarms
Paine House at Greenwood Farm, Ipswich, MA

Thanks to the generosity of maverick Sally Dodge, visitors can enjoy spectacular views of marshlands and coastal islands at this former saltwater hay farm. A strong independent woman, Dodge defied convention by giving her family's farm to The Trustees because she believed in its historical significance. With its preserved 1694 yellow clapboard saltbox house, visitors will be transported back to the days when early settlers made their living from this beautiful yet challenging landscape. Under The Trustees' ownership, a rare 18th century dairy was found within the house, demonstrating how women contributed to the local economy, just as Dodge contributed to preserving its memory. Tours provided throughout the day. http://www.thetrustees.org/greenwoodfarm
The Stevens-Coolidge Place, North Andover, MA

At the Stevens-Coolidge Place, discover how a visionary heiress with a love for gardening, an adventurous diplomat, and a sought-after architect transformed a simple family farm into a grand country estate and prevented it from being paved over for a highway. Tour the c1800 farmhouse that was modernized in the early 1900s by the colonial revival architect Joseph Everett Chandler (famous for the Paul Revere House and House of the Seven Gables). You'll find it filled with elegant murals and souvenirs from South Africa to China, evidence of Helen and John Coolidge's life abroad. The influence of their travels extends to the beautiful garden "rooms," also designed by Chandler, including a kitchen and cut-flower garden, a rose garden, greenhouse complex, and a potager (French vegetable garden). Garden tours available at 11am and 1pm. Plants from the gardens will be on sale, and there will also be croquet, refreshments, and light snacks. Picnicking welcomed! http://www.thetrustees.org/scp
The Old Manse, Concord, MA

Situated near the banks of the Concord River and next to the old North Bridge where the famous battle of April 19, 1775 took place, The Old Manse is one of Concord's most fascinating homes. A National Historic Landmark built in 1770 by Ralph Waldo Emerson's grandfather, William Emerson, who was a patriot minister; the Manse became the center of Concord's political, literary, and social revolutions over the course of the next century. Hear stories about some of the intellectual, and sometimes controversial, former residents like Ralph Waldo Emerson, Nathanial Hawthorne, and Henry David Henry David Thoreau. Enjoy guided tours, light refreshments, and the gift shop during the open house hours. http://www.thetrustees.org/oldmanse
SOUTHEAST

Allen C. Haskell Public Gardens, New Bedford, MA

Home is where the heart is, and a well-designed garden – and extension of your home – is your escape to the outdoors. During this Open House event, explore intricate gardens surrounding one of New Bedford's oldest homes that feature exotic plants and trees and discover why celebrities like Jacqueline Kennedy Onassis, Martha Stewart, and Queen Beatrix of the Netherlands sought gardening advice from maverick horticulturalist Allen C. Haskell. The event will showcase the lovely Haskell "hosta garden," and include guided tours, food vendors, and our first annual Plant Sale featuring a variety of seasonal plant material suitable for growing in the New England climate. http://www.thetrustees.org/haskell
PIONEER VALLEY

The William Cullen Bryant Homestead, Cummington, MA

The bucolic setting of the William Cullen Bryant Homestead, a National Historic Landmark, inspired one of America's foremost 19th-century mavericks. Discover where this poet, lawyer, and editor spent his youth, eventually becoming a well-known advocate for organized labor and the abolition of slavery. Outside, you can follow Bryant's footsteps on this 195-acre pastoral estate, exploring 2.5 miles of hiking trails around the property and ponder how the landscape, portrayed in his poetry 150 years ago, helped inspire the 19th century land conservation movement that involved Frederick Law Olmsted and his protégé Charles Eliot, founder of The Trustees. http://www.thetrustees.org/bryant
THE BERKSHIRES

The Ashley House, Sheffield, MA

History buffs take note! The oldest house in Berkshire County is where Col. John Ashley drafted the Sheffield Resolves in 1773, helping to plant the seeds of the American Revolution. Less than ten years later, Elizabeth Freeman (nicknamed and formerly referred to as "Mum Bett") who was enslaved by the Ashleys, successfully sued for her freedom under the new state constitution in 1781, setting a precedent that helped to end slavery in Massachusetts decades before the Civil War. A key anchor site on the Upper Housatonic Valley African American Heritage Trail (AAHT), The Ashley House features an exhibit about Freeman and is filled with antique furnishings. After your tour, consider stopping by The Trustees' Bartholomew's Cobble property next door, a National Natural Landmark, for some great hiking and, for the energetic, a climb up the 1,000-ft. Hurburt's Hill for a beautiful view. Tours provided throughout the day. http://www.thetrustees.org/ashleyhouse
Naumkeag, Stockbridge, MA

Framed by dramatic vistas of the Berkshires, the house and gardens of Naumkeag are designed to surprise. Featuring an unconventional set of connected garden "rooms" that are a delight to explore, the landscape is the product of many years of experimentation by maverick gardener Ms. Mabel Choate and forward-thinking landscape architect Fletcher Steele, considered the founder of modern American landscape design. The 44-room "cottage," an architectural gem designed by McKim, Mead & White, was built as a summer residence for the family of Joseph Hodges Choate, lawyer to titans of industry such as the Rockefellers and U.S. Ambassador to the United Kingdom. Outside, the house displays the personalities of two different architectural styles; inside, collections of artwork and furnishings reveal how deeply Ms. Mabel Choate was inspired by her world travels. A National Historic Landmark, Naumkeag is a place where you, like the Choates, can find inspiration in beauty. Enjoy a bite to eat from the Red Lion Inn at Naumkeag's Oak Café and spend the day in the Berkshires. http://www.thetrustees.org/naumkeag
The Mission House, Stockbridge, MA

Moving to the frontier may seem like an unlikely choice for a recent Yale graduate. But that is exactly what 24-year-old John Sergeant did in 1735, when Mohican Indians living in the Housatonic Valley petitioned the colony of Massachusetts for a minister and school. Sergeant went on to learn the language of the local Stockbridge Mohicans, and developed a multi-cultural settlement that remained harmonious for many years. The Mission House, built for the Sergeant family in 1740, is now a National Historic Landmark that contains an outstanding collection of 18th-century period furnishings and decorative arts, as well as a small Native American museum that tells the story of the Mohicans. Outside, explore a Colonial Revival garden designed by renowned modern landscape architect Fletcher Steele, which features herbs, perennials, and annuals that had culinary or medicinal value to early colonists. Tours provided throughout the day. http://www.thetrustees.org/missionhouse
The Folly at Field Farm, Williamstown, MA

New England's youngest historic house museum is an award-winning architectural gem. As its name suggests, The Folly is both a whimsical and daring structure, designed in 1965 by noted post-modernist architect Ulrich Franzen. Its three bedrooms dance around the form of a pinwheel-shaped guest cottage that still contains its original, contemporary furnishings. Situated on 316 pristine, conserved acres, The Folly is paired on the property with The Trustees' mid-century modern structure, the Guest House at Field Farm (one of two B&Bs owned and managed by the organization). To extend your visit, book a room at The Guest House at Field Farm or take a walk among the scenic hiking trails and sculpture garden, which features work by Richard M. Miller, Phillip Pavia and Herbert Ferber. Tours provided throughout the day. http://www.thetrustees.org/field-farm
For those who can't make the open house day, please visit http://www.thetrustees.org/historichomes to find historic home visitation hours and/or to schedule a special school tour or group outing.
###