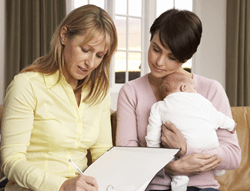 Santa Rosa, CA (PRWEB) May 21, 2015
May is the month that features a special day to celebrate a very important medical provider for women; the midwife (May 5). And with the birth of the latest royal (Princess Charlotte et al) happening just a few days earlier -overseen by no less that two midwives per Kate Middleton's (the Duchess of Cambridge) request – the art of midwifery is in now the spotlight. "With so much world-wide attention on midwives this month, the Women's OB/GYN Medical Group would like to pay special tribute to our own highly skilled midwife providers, Kirsten Eckert, CNM, Cecelia Rondou, CNM and Suzanne Saunders, CNM," says Women's OB/GYN Medical Group's Dr. Lela Emad, obstetrician & gynecologist.
Midwives are Highly Trained Professionals
Midwives, like other healthcare providers for women, are making a difference in the lives of women in their communities – all over the world. Certified Nurse-Midwives (CNMs) are specially trained in providing healthcare to pregnant women, and can oversee the birth process from conception through labor and into delivery. According to the latest available statistics on the subject, women are opting to have a CNM serve as their primary healthcare providers during pregnancy at an increasing rate.
According to the American College of Nurse-Midwives since 1989 the percentage of midwife-attended births has been on the rise, and in the latest available report as of 2012, midwives attended almost eight percent of all hospital births, a six percent increase from 2005. The percentage of out-of-hospital births attended by CNMs also increased from 28.6 percent in 2005 to 30.4 percent as of 2012. Both the number and percentage of midwife-attended births in the United States slightly increased from 2011 to 2012 despite a decrease in total US births.
Compassionately Providing Birthing Services to Women
"The ability to successfully oversee an expectant mother from conception to delivery requires no less than expert knowledge about the gestation period and birthing process as well as heightened empathy between providers and their patients," explains Dr. Lela Emad. "Our CNMs work in close collaboration with OB/GYN doctors, and serve as the primary health resource for many pregnant women who prefer to involve a midwife in their pregnancies." And according to the latest statistics, midwives practice wherever women give birth. In 2012, the majority of midwife-attended births in the U.S. occurred in hospitals (94.9 percent), while 2.6 percent occurred in freestanding birth centers, and the remaining 2.5 percent occurred in homes.
Women's OB/GYN Medical Group's highly skilled CNMs offer expertise, tender care and personalized guidance to women during their childbearing years. "Our CNMs understand that delivery preferences are extremely important and personal to expecting mothers, and that they can also be difficult for some women to determine," said Dr. Emad. To ensure that patients have the best possible experience during their pregnancies, Women's OB/GYN Medical Group CNMs are especially attentive to pregnant mothers' personal philosophies on giving birth and general reproductive health.
What patients can expect from a Certified Nurse-Midwife at Women's OB/GYN Medical Group during pregnancy:


    Routine Gynecological Check-ups with attentive care to physical and emotional health needs
    Hospital delivery of baby and special guidance during labor if desired
    Supportive consultations with patient and partner
    Constant communication with OB/GYN physicians
    Family planning and expert advice on the contraceptive use
    Obstetrical Care
    Educational discussions about breastfeeding, infant care, and what to expect during the postpartum period
Why the Women's OBGYN Medical Group's CNM's are so special
The provider team of expert OB/GYN physicians, certified nurse midwives, family nurse practitioners, and medical assistants at the Women's OB/GYN Medical Group provides unmatched care to patients in the region. Cecelia Rondou, CNM, Kirsten Eckert, CNM and Suzanne Saunders, CNM – all highly qualified professionals, make up the team of midwives in the medical group. "These experienced midwife professionals are vital to the overall quality of care we are able to offer to patients," explains Dr. Emad.
The Women's OB/GYN Medical Group CNM's provide comprehensive midwife services including diagnostic women's health screening tests, care throughout the child bearing cycle, management of common perinatal problems, education to promote and maintain health, specimen collection and interpretation of laboratory data, contraception counseling, and so much more. For more information call (707) 579-1102 or visit their website.